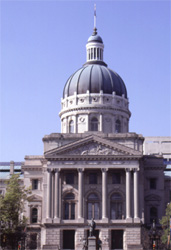 E85 infrastructure legislation that will extend grants of $100,000 up to 50% is one step closer to being a reality. According to BrighterEnergy.org, House Bill 1261 was voted through without opposition in the Indiana state Senate.
The "Agricultural Biomass Infrastructure Grant Fund" now will return to the state's House of Representatives for consideration. The grant will extend the eligibility of governments, retailers, school corporations and state universities to tale advanatage of this funding.
State Senator Sue Errington (D-Muncie), one of the sponsors of the Bill, said: "Biomass and biofuels are going to be an important part of our future energy market. This bill gives biomass producers the tools they need to build and expand the infrastructure required to deliver these renewable energy products."
"By opening up more grant opportunities, we can encourage further development and use of alternative energy in Indiana," State Sen. Stutzman said. "With today's vote, the Senate helped move our state toward greater energy independence."
The state of Indiana currently has 129 E85 refueling locations.