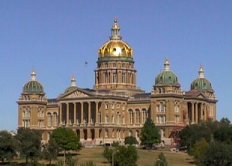 Things are getting a bit tough in the fight to get a biodiesel mandate implemented in Iowa.
This post from the Des Moines Register says a letter that Decker Trucking of Fort Dodge sent to the legislature outlining the company's two million mile biodiesel study that hurts biodiesel's case is being refuted by the Iowa Biodiesel Board.
The letter says that biodiesel is not a cost-effective solution at this time … a charge the board obviously disagrees with:
"We have nothing but respect for Iowa's truckers, but it seems fear and politics are overtaking facts," said Randy Olson, executive director of the Biodiesel Board. "The study found few significant differences between 20 percent biodiesel and ultra low sulfur diesel in performance and operation."
Olson added "truckers are known to be patriotic and dislike dependence on foreign oil, which makes it disappointing that they oppose this legislation."
Last year, a biodiesel mandate cleared the State Senate but never made it to the House.