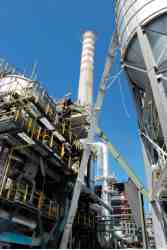 American Process had a ribbon cutting ceremony today celebrating its first cellulosic ethanol production at its pilot plant in Thomaston, GA. The plant was designed to test its proprietary technology, AVAP, American Value Added Pulping. This process co-produces pulp and ethanol from wood in an integrated biorefinery application. The wood is also used to provide energy for the plant.
According to the company's website, AVAP utilizes alcohol sulfite cooking liquor to fractionate softwood chips into three lignocellulosic components. The addition of alcohol speeds the pulping, but still preserves the cellulose strength. Volatile cooking chemicals are stripped and reused in the cooking process at a high recovery rate, and lignosulfonates are precipitated and burned to produce process energy. The remaining liquid fraction contains hydrolyzed hemicelluloses. The company estimates that this sugar rich solution, when fermented, will annually yield up to 22.6 million gallons of bioethanol from a mill producing 500 tpd of pulp. The company notes that the value of converted hemicelluloses is 4-5 times greater for society as ethanol than as presently burned.
According to Bob Belling, the VP of Business Development, the site will produce about 80k gals/yr of ethanol. At this time, it will not be blended or sold and the pilot plant is being used for research only. The project has also created about 20 jobs in Atlanta and Thomaston.