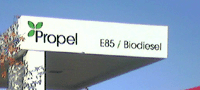 On February 24th, E85 will sell for 85 cents per gallon at Propel Sacramento fueling locations within the state of California. This promotion will be in partnership with CALSTART to announce and celebrate expansion of the clean burning fuel throughout the state. The promotion is also an effort to bring awareness of E85 to the over 400,000 flexible fuel vehicles in California.
Propel's E85 stations were partially funded through a US Department of Energy grant administered from CALSTART. According to a CALSTART press release, as a result of this grant, 14 new stations have been opened throughout California in the past 18 months.
"This growing network of E85 stations from our partner, Propel, offers California consumers more choice, while cleaning the air and boosting our efforts to cut petroleum use in the state," said John Boesel, President and CEO of CALSTART.
A press event will kick off the promotion at 10:00 a.m. at 7741 Auburn Blvd. in Citrus Heights, CA. Propel currently has 11 E85 stations throughout the states of California and Washington. To see a listing of E85 stations that will offer the 85 cent promotion, click here.