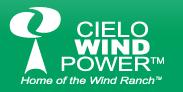 Two American companies have teamed with a Chinese company for a $1.5 billion West Texas wind farm project.
The Austin (TX) Business Journal says Texas-based Cielo Wind Power and U.S. Renewable Energy Group out of Washington, DC have teamed with Shenyang, China-based A-Power Energy Generation Systems Ltd. subsidiary Shenyang Power Group for a 36,000 acre wind farm:
A-Power will begin shipping wind turbines in March and deliver all units by the same month of 2011. Its subsidiary, Shenyang Power, is contributing $36.6 million to the project, which is expected to produce about 600 megawatts of energy.
Shenyang and U.S. Renewable Energy formed a separate Delaware LLC to own, design, develop, construct, manage and operate the wind turbines, according to the release. A Cielo affiliate will also assist in development.
This is one of the world's first Chinese-American utility-scale wind power projects, able to produce enough electricity to power 180,000 homes while creating hundreds of U.S. jobs.