Sacramento-based Propel Fuels has announced it is investing $20 million into an effort that will put its biofuels, as well as hydroge and electric vehicle charging areas, into stations in every major market in California.
This company press release says the move supports California's emissions reduction goals while stimulating jobs: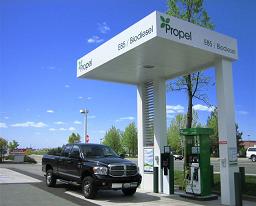 "California has the largest fleet of alternative fuel vehicles in America and the market is significantly underserved," said Matt Horton, CEO of Propel. "This funding allows us to build on strong consumer demand and bring alternative fuels to more than 2 million alternative fuel vehicles on California roads today."
Concerns over the price, long‐term supply and environmental impacts of petroleum have led California companies to invest hundreds of millions of dollars into advanced biofuel production technologies. With numerous advanced biofuel production facilities preparing to break ground in the state, Propel's fueling infrastructure is a critical link between California's citizens and the next generation of low
carbon fuels. In addition to liquid fuels, Propel's retail platform is extensible to meet demand for future transportation technologies including hydrogen and electric vehicles.
Propel officials believe they have the right business model for the current and future demands for renewable fuels.