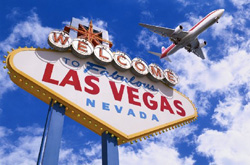 A Nevada utility will get some of its power from wind energy.
This story from Las Vegas Review-Journal says NV Energy has signed a a deal to buy energy from a wind farm near Ely for the next 20 years:
Pattern Energy Group of San Francisco will build the 150-megawatt Spring Valley Wind Project, which would be Nevada's first major, utility-scale wind plant.
NV Energy already has announced plans to codevelop with RES Americas the 200-megawatt China Mountain Wind Project near the Idaho border, but that project is still in the environmental-impact statement permitting process.
The Spring Valley project is scheduled for completion by late 2011. Neither company disclosed the terms of the agreement.
"We're pleased to add more clean renewable energy for our customers, and this project is a good example of developing renewable energy resources in remote parts of our state," said NV Energy President and Chief Executive Officer Michael Yackira in a statement.
In addition to creating clean energy, the wind farm will create more than 150 jobs during construction with another 10 permanently employed at the wind farm.
The deal is part of a state requirement that NV Energy get 25 percent of its power from renewable sources by 2025.