Solar energy is not just for roofs. Petra Solar, a company that specializes in pole mounted solar systems for utilities, announced that it has raised $40 million in funding to be used for expansion initiatives. Current investors in the company participated in this round including Element Partners, Blue Run Ventures, OnPoint Technologies (U.S. Army's Venture Fund) and Kuwait's National Technology Enterprises Company, and were joined by two new investors Craton Equity Partners and Espírito Santo Ventures.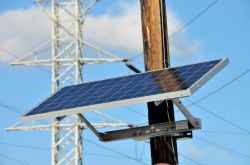 "The Petra Solar management team is very pleased to have Craton Equity Partners and Espírito Santo Ventures as investors, especially given their experience in cleantech growth investing and their expertise in the regulated energy sector.  We are also thankful for the continued support of our existing investors," said Petra Solar CEO and President, Dr. Shihab Kuran. "Petra Solar has a proven model for green job creation including installation and manufacturing jobs that are local to system deployment. We are very gratified that our business interests line up directly with the public's interest in producing reliable, clean energy and green jobs."
The company plans to use the additional funding to add green jobs and expand its customer base. Petra Solar anticipates that it will immediately add 30 new employees and have a team of 165 people by year end. The company's SunWaveTM system generates clean energy and increases reliability to the distribution grid. In the future, the company plans to expand its product line to address new applications and market segments that leverage its Smart Energy Module TM platform, which integrates utility grade power management, smart grid communications and grid availability features into a single system.