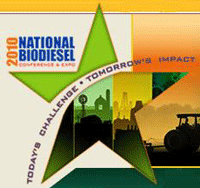 After my presentations tomorrow at the Chicago Farmers Farmland Investment Fair I'll be off to Dallas for the National Biodiesel Conference and I'll be the Biodiesel Blogger for the 5th year!
I'd like to thank New Holland for their sponsorship of the National Biodiesel Conference Blog this year and their support for the biodiesel industry.
You can subscribe to the Biodiesel Conference Blog using the RSS Feed Link. We'll also be podcasting our audio interviews again and that subscription link is here.
In addition to my posts on the NBC Blog I'll also be posting onto our AgWired.com website and right here on Domestic Fuel.