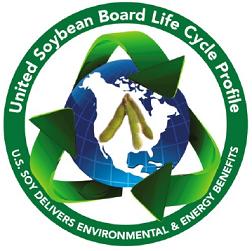 While soybean-based biodiesel has been unfairly knocked at times for not being as environmentally friendly as it should be, a new study shows just how green fuel from the bean really is.
A new peer-reviewed life cycle profile released by the United Soybean Board (USB) documents multiple energy and environmental benefits of U.S. soybean farming and processing, including biodiesel. This press release has details:
"This profile is the first comprehensive life cycle study covering U.S. soybean production through four major biobased products," said Wynne, Arkansas soybean farmer John Cooper, a USB Director and Member of the USB Domestic Marketing Committee. "U.S. soy already delivers environmental and energy benefits. It's exciting to see the trends point to even more in the future."
The study provides an important resource for companies to update life cycle assessments on their specific products made using U.S. soy.
"The United Soybean Board's study sheds even more light on why biodiesel is good for the environment," says National Biodiesel Board Director of Sustainability Don Scott. "Biodiesel production and use recognizes and builds on this progress."
For example, biodiesel production facilities reduced their energy consumption by 27% compared to the 1998 data. Biodiesel has even more benefits when one calculates the emissions reductions when it is used to fuel a vehicle.
A key objective was to update life cycle inventory (LCI) databases for soybean production and processing as well as conversion into four key soy-derived feedstocks (methyl soyate, soy lube base stock, soy polyol, and soy resin) used in fuel and industrial products. Its cradle-to-gate scope begins with soybean farming (the cradle) and goes through processing of products (the gate).
Another important aspect of this study is that it's based on U.S. agricultural data for the 2001-2007. The data the Department of Energy's U.S. Life Cycle Inventory is based on comes from 1998 to 2001. And it contains soybean crushing information not previously available.