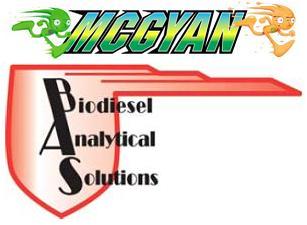 Ohio-based Biodiesel Analytical Solutions is teaming up with Minnesota's Mcgyan Biodiesel, LLC to offer a commercial version of Mcgyan's cutting-edge biodiesel process technology. A company press release touts the process as something that will "revolutionize an antiquated process and revitalize the withering industry," and you can see the two companies kick-off their partnership next week at booth #906 at the 2010 National Biodiesel Conference & Expo, in Grapevine, Texas:
Mr. Steven Rupp, president of Mcgyan Biodiesel, LLC, explains, "Mcgyan and BAS will offer the world market a one-stop shop for the cutting-edge Mcgyan® biodiesel process technology. Our comprehensive package of value-added services will include site selection, technology licensing, plant design, plant engineering services, remote plant monitoring, supply of catalyst and other core plant equipment, plant management, plant operator training, feedstock prequalification & procurement, and final product marketing. By offering a turnkey solution to those passionate about investing in the creation of biodiesel production facilities, Mcgyan and BAS will ensure that the Mcgyan Biodiesel brand becomes synonymous with the highest quality biodiesel fuel product on the market."
Mr. Mark Fashian, president of Biodiesel Analytical Solutions, notes, "the BAS sales force is excited to sell this technology. We believe this process will single-handedly revitalize the biofuels market worldwide." Mr. Fashian went on to say that "BAS is the premier quality laboratory sales and service provider in the biodiesel industry. It is a perfect fit for our team to also sell a process that consistently
produces ASTM D6751 compliant biodiesel to an industry that has been struggling to meet compliance with the traditional process technologies that have been used since the 1930s."
The Mcgyan® biodiesel process technology has been around for about three years and combines triglycerides or free fatty acids with an alcohol to produce biodiesel. Usually, large-scale production of biodiesel using triglycerides has some unwanted side reactions that produce soaps and uses numerous water-intensive neutralization and fuel washing steps. But the Mcgyan process overcomes most of these issues and allows for the ultrafast continuous production of biodiesel without waste and unwanted glycerol byproducts. Check 'em out at the National Biodiesel Conference & Expo!