There is no shortage of potential feedstocks for biofuels and yesterday, Evogene Ltd based in Rehovot, Israel announced that it will be conducting field trials in Texas and Brazil of its proprietary castor bean lines. The trials will be conducted in conjunction with Texas AgriLife Research in Texas, which is part of the Texas A&M System, and South Cone Agriculture in Brazil. This is the first round of trials outside of Isreal and the castor beans have been designed for higher yield and growth on semi-arid land making it a candidate for second generation biofuel production.
According to Evogene, the purpose of the field trials in Texas and Brazil is to evaluate the lines when grown in the two main target locations for future commercial growth, and further develop them to local conditions. The semi-arid land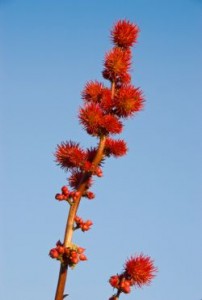 potentially available for castor commercial growth in these areas is estimated at over 10 million hectares and the climate conditions are suitable for this purpose.
In a company statement, Ofer Haviv, Evogene's President and CEO said, "During the past few years, in addition to our well-established and rapidly growing agbio trait activities, our biofuel activity has grown with the castor project being a key component. Both the U.S.A. and Brazil have strong potential in terms of land availability, commitment to biofuels and ability to develop large scale agriculture industries. We look forward to working with the professional teams at Texas AgriLife Research and South Cone Agriculture to test our castor lines and further develop them towards commercialization."
Evogene selected castor beans in part due to the growing demand of biodiesel in Brazil and America, although the biodiesel industry in the U.S is currently undergoing some challenges with the expiration of its tax credit. The biodiesel industry is working furiously to get this, other other safe guards that will continue to move the industry forward, into place.
"There is an immediate need for a sustainable, widely available and cost efficient second-generation plant feedstock for biofuels. We believe that the castor bean varieties Evogene is developing can provide a solution for the industry," concluded Haviv.