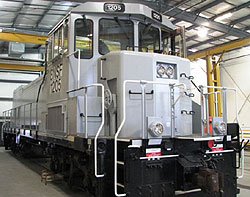 A railroad will run one of its locomotives on hydrogen.
This article in the Orange County (CA) Register says the Burlington Northern Santa Fe will use the first locomotive powered by hydrogen-fuel cells: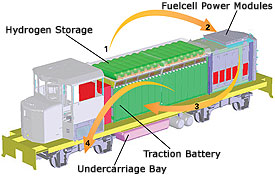 Trains powered by hydrogen instead of diesel fuel could help solve two problems, officials said – provide an alternative to increasingly scarce fuel supplies and prevent millions of tons of carbon from being released into the environment.
The hydrogen-fuel train is a switch locomotive that moves train cars short distances and from track to track. It will initially operate in Los Angeles. The company plans to continue developing the technology, with the hope of eventually pulling entire freight trains through the region.
California Governor Arnold Schwarzenegger calls it "the beginning steps of the technology."