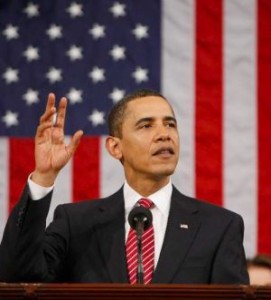 The nation that leads the clean energy economy will be the country that leads the global clean economy and America must be that nation," said President Obama tonight during his first State of the Union address. "I will not accept second place."
There were several major focuses of his speech including the support of small businesses, building a stronger financial institution and the creation of new jobs, especially in the clean tech sector. "We need to put more Americans to work building clean energy systems," said Obama. He also wants to give incentives to consumers who add energy efficiency technologies to their homes, the purchase of these will help to support clean energy industry, he explained.
Obama continued that the House has already passed a bill that will do some of these things, and expressed hope that the Senate would as well. "I want a jobs bill on my desk without delay."
In anticipation for Obama's support of clean tech jobs, Renewable Fuels Association (RFA) President, Bob Dinneen sent out a statement saying, "America's ethanol producers stand with the President, ready to provide good paying jobs and economic opportunity in a cleaner and more sustainable manner. "In just the past 10 years, ethanol production has helped create hundreds of thousands of new jobs for engineers, construction workers, chemists, accountants, maintenance supervisors, and countless others. With new technologies on the precipice of commercialization, this industry is once again poised to bring unparalleled economic opportunity to small, rural communities all across the nation."
Obama continued, "No area is more ripe for investments than energy…but to create more of these clean energy jobs, we meed more production, more efficiencies and more incentives. He then laid of some of the elements that are needed to create the clean energy industry including continued investments in advanced biofuels. Finally he said, "And yes, it means passing a comprehensive energy and climate bill with incentives that will finally make clean energy profitable energy."
While Obama didn't get specific about the steps to "profitable energy" RFA lists several steps that the administration should take.
1) Finalize the Renewable Fuel Standard (RFS)in a manner that uses the best available science and provides for the kind of market security next generation biofuel technologies need to thrive.
2) Extend the tax incentives for the use of ethanol from all feedstocks and extend the offsetting secondary tariff on ethanol imports.
3) Approve E15 (15% ethanol/85% gasoline) and other higher level blends for use in all gasoline vehicles, regardless of model year.
4) Partner with industry to expand ethanol blending and dispensing infrastructure, including the installation of blender pumps.
5) Mandate an increasing percentage of all new vehicles sold in the U.S. be flexible fuel vehicles (FFVs) capable of using ethanol blends up to 85% (E85).