One of the biggest challenges for our country lies in the issue of how to create effective public policies that will grow the biofuels industry and reduce our dependence on foreign oil. Dr. Antonio Bento, associate professor in the Applied Economics and Management Program at Cornell University, has been researching exactly how to do this and he shared his results during the AG CONNECT Expo last week.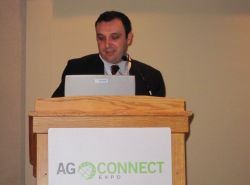 First we must take a step back to take two steps forward. There are several policies in place that mandate the production of biofuels with the Energy Independence & Security Act having one of the greatest impacts. This act requires 36 billion gallons of biofuels by 2022 with 15 billion coming from corn-ethanol. Bento noted that the country is well on its way to meeting this goal yet surprisingly, "While a lot of public press has blamed the increasing food prices due to these mandates, we find very little effect. Indeed, we find the bulk of the increase in food prices comes from the fluctuation in crude oil prices and our dependence on foreign oil, and less on the land we are devoting for the production of biofuels."
Speaking of land, Bento also notes that biofuels are disproportionately being blamed for indirect land use effects. This has to do with the fact his framework, unlike a lot of the other models out there, is really accounting for the dynamics. "In other words, we really account for the fact that overtime yields will improve, we account for the fact there's multiple land use that could adjust and we account for the fact there will be technology progress in the industry," said Bento.
His model also accounts for the fact that most areas around the world have not seen maximum yield potential and farmers around the world will look for opportunities to increase the productivity of existing land first.
Since Bento laid out that his research demonstrates that biofuels are being unfairly blamed for higher food prices and indirect land use effects, I asked him what effective policy and effective pricing would be. He noted that we know that the cost to produce a gallon of ethanol using second generation feedstock is typically twice as much as corn-based ethanol. So you have to ask, he said, will this sector ever emerge?
"At current prices no. Then you have to ask can the U.S. make a serious commitment towards renewable energy? Of course it can but before you can do that, you need to start accounting for all the external costs that are associated with our dependence on foreign oil and also the environmental costs associated with our consumption of fuel," said Bento. "Once you start doing that, there are reasons and decisions to design a very comprehensive package of public policies that move us and transition us towards renewable energy."
Listen to my full interview with Antonio here.