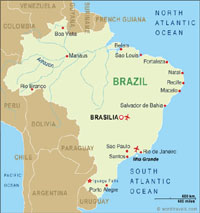 According to Reuters, Brazil has opened the world's first ethanol powered power plant. Petrobas and General Electric (GE) designed the project in hopes that this will help with demand for ethanol. The plant switches between between running on natural gas or ethanol instantaneously.
"We have great expectations to show the viability and economy of generating electricity from…an alternative feedstock to fossil fuels," Maria das Gracas Foster, head of Petrobras' natural gas division, said.
John Ingham, Latin America products director for GE, said tests showed switching the plant to ethanol reduced carbon dioxide emissions without lowering energy output. "A plant like that consumes a lot of ethanol, so it has to be in a place that makes sense (such as) places that have no access to gas, like Japan, some islands, or places that depend heavily on diesel like the Amazon region," he said. GE is looking to do the same thing in Japan.
Brazil is expected to produce a record 27.8 billion liters of ethanol in the 2009-2010 season. It began its biofuels program 30 years ago and now mandates a minimum 20 percent of ethanol in gasoline.