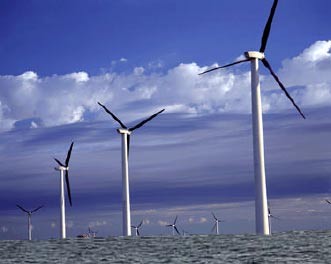 A group of developers, manufacturers, utilities, localities, businesses and environmental groups has created a coalition to promote offshore wind energy in Virginia.
North American Windpower reports that the Virginia Offshore Wind (VOW) coalition wants to make the Hampton Roads area a hub of manufacturing and supply for future offshore wind farms on the East Coast:
"The market opportunity for Virginia to become the East Coast hub for offshore wind manufacturing and logistics is approximately $80 billion and represents more than 10,000 new jobs for our state," says Josh Prueher, president of Earl Industries and vice chairman of VOW. "We must act now to capture it."
Last summer, [William D. Sessoms Jr., mayor of Virginia Beach, Va.] created the Mayor's Alternative Energy Task Force to study new green energy sources for Virginia Beach, Hampton Roads and the state. Wind energy was identified as one likely source of alternative energy.
VOW is working closely with Virginia legislators to place the state in a position of leadership within the industry. The coalition is working on state legislation that will make Virginia competitive with other states pursuing offshore wind.
You can read more about VOW here.