The Environmental Protection Agency (EPA) has recognized Waste Management, Inc. for its innovation and creativity in the development of the Altamont Landfill Gas to Liquefied Natural Gas Facility that went online in Livermore, CA in late 2009. The award was presented during the EPA's 13th annual Landfill Methane Outreach Program Conference and Project Expo.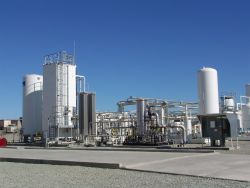 The project is a joint venture with Linde North America, which is part of The Linde Group. According to Waste Management, the Altamont facility is the largest landfill gas (LFG) to liquefied natural gas (LNG) plant in operation in the world and produces 13,000 gallons of LNG per day. This is enough renewable fuel for Waste Management to operate 300 out of its 485 LNG waste and recycling collection vehicles in 20 communities in California.
"The Altamont LFG-to-LNG facility enables us to recover and utilize a valuable source of clean energy in another practical way, reducing our dependence on fossil fuels. Conventional LNG is already a clean-burning and economically viable alternative fuel for our collection trucks," said Paul Pabor, vice president for Waste Management's Renewable Energy Group. "The ability to use recovered landfill gas to fuel our hauling fleet offers significant environmental benefits to the communities we serve in California and is a great example of how we are committed to recovering resources in waste."
The EPA also recognized another Waste Management project – University of New Hampshire's EcoLine Project which converts landfill gas into enough energy to meet 85 percent of the five million square-foot campus' and heating needs.