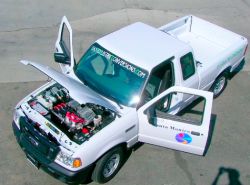 The city of Santa Monica, CA is the first to receive the first light duty, all-electric Ford Ranger for use in its public works fleet. Santa Monica was selected due to its commitment to sustainability and will serve as a hub to highlight the benefits of electric vehicles including lower operational costs and a reduced carbon footprint. The Ford Ranger was converted from gas to electric by Santa Monica based Gas to Electric, Inc.
The success comes on the heels of a legal dispute between company President Paul Pearson who last year had legal action taken against him by the city for converting gas cars to electric without a license. All charges were dropped and today, the company is working with the city to further its sustainability initiatives.
"Santa Monica has shown not just the environmental benefits of green technology but the economic benefits as well," said Pearson. "I'm confident that more cities will begin to emulate the model they've created. It's a 'win-win' for everyone."
According to Pearson, the converted Ford Ranger uses a standard AC wall outlet to charge and utilizes a low voltage system designed for the safety of fleet maintenance personnel and emergency responders. The vehicle retains all the original manufacturers' safety equipment, such as ABS brakes, seatbelt sensors and fully functional airbags and the 35 mile range allows for a top speed of 55 mph. Pearson estimates the operational costs to be 2 – 3 cents per mile and as the motor has only 3 moving parts. Conversion is done with all American made parts and is funded in part with grants and numerous Local, State and Federal tax incentives.
Currently, the conversions only allow city use and limited freeway access making them well-suited for city Maintenance and Landscape Departments, Facilities and Parks and Recreation Departments.