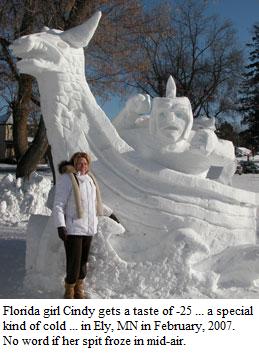 As a guy who is from the Upper Midwest, I can tell you that the kind of cold that the Dakotas, Iowa, Wisconsin and Minnesota have experienced the last couple of weeks was a "special" kind of cold. Forty or 50 below zero is Jack-London-Call-of-the-Wild-spit-freezin'-in-mid-air kind of cold. So, it's no wonder that the cold has put Minnesota's 5 percent biodiesel mandate … the only cold weather state with a requirement that aggressive … on hold, at least until it warms up.
The St. Paul Pioneer Press says worries that the fuel would gel in the extreme cold prompted the change:
The Commerce Department waiver begins Friday and continues through March 31. It came after the Minnesota Biodiesel Council and the Minnesota Petroleum Marketers Association expressed concerns that 5 percent biodiesel mixed with the diesel fuel most used in farm equipment, so-called No. 1 diesel, could lead to clogged fuel filters in extreme cold weather, according to a release from the Commerce Department.
"We've heard of problems in southwestern Minnesota and northern Minnesota. Many of the problems have been reported by the agricultural sector," Commerce spokeswoman Nicole Garrison-Sprenger said.
The trucking industry, which uses No. 2 diesel mixed with biodiesel, has reported no cold weather complaints, she said. The B5 mandate still applies to No. 2 diesel.
No. 2 biodiesel starts to form solids that clog filters at 0 to 15 degrees. And even though No. 1 biodiesel can run much colder — it doesn't start to gel until minus-40 to minus-50 degrees — the state lifted the mandate on No. 1 biodiesel to ensure farmers get a fuel that they know works, at least until the cause of the problem can be determined, Garrison-Sprenger said.
When Minnesota had a 2 percent biodiesel mandate, that also got suspended due to cold weather clogging, but that was due to past poor quality of the fuel.