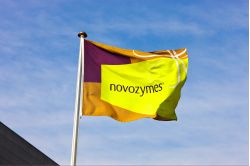 Novozymes has received a $28.4 million tax credit to aid in the construction of the company's new enzyme manufacturing facility in Blair, Nebraska. Specifically, Novozymes has received an Advanced Energy Manufacturing Tax Credit from the Obama administration. Once complete, the plant will produce enzymes used during the production of advanced biofuels and create more than 100 'green' jobs. The tax credit will become available in 2012 and could save the company nearly $18 million per year in tax savings.
"We believe our selection for this tax credit is a reflection of the tremendous potential of advanced biofuels to create green jobs and contribute to meaningful reduction of greenhouse gases in the near-term," said Adam Monroe, President of Novozymes North America. "Novozymes applauds the continued support of the Obama Administration to further the development of clean energy technologies like advanced biofuels."
As part of the administration's support for the development of clean technologies, monies were allocated as part of the American Recovery and Reinvestment Act to foster investment and employment for companies who are working to bring clean technologies to the marketplace.To date, a total of $2.3 billion has been awarded to 183 manufacturing facilities across 43 states.
Currently the blending facility went online in November 2009 and is currently shipping product throughout the world. Full production should begin mid-2012. Once the project is complete, Novozymes will have invested between $160-$200 million.