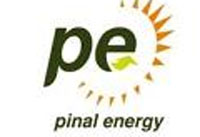 Pinal Energy, Arizona's first ethanol production facility, will be holding a biofuels workshop on Tusday, January 12, 2010 to assist station owners in converting stations to install biodiesel and/or E85. The workshop will be held at the Hilton Phoenix Airport.
The agenda includes: Mark Ellery from Caljet; Introduction to Biofuels by Andrea Martincic of Arizona Petroleum Marketers Association (APMA); E85 and Biodiesel Basics by Colleen Crowninshield, Clean Cities; Regulatory Requirements by Duane Yantorno of ADWM; All About Ethanol by John Skelley of Pinal Energy; Arizona's Biofuel Conversion Program by Mark Ellery of Caljet; and Conversion of Existing Infrastructure by Brent Erikson of Cochise.
Currently, there are 28 E85 fueling facilities in the state of Arizona to fuel the nearly 115,000 flexible fuel vehicles in the United States. This workshop is intended to assist in bringing more stations to fuel the surplus of vehicles.