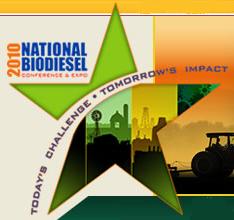 As the EPA gets closer to implementing the new Renewable Fuels Standard (RFS-2), those attending this year's National Biodiesel Conference and Expo, Feb. 7-10 at the Gaylord Texan Resort & Convention Center in Grapevine, Texas will have the chance to talk about and prepare for RFS-2:
This year's implementation of the RFS-2 will be the single largest factor in biodiesel production and use.
The 2010 National Biodiesel Conference and Expo is committed to providing attendees the tools that you need to navigate anticipated demand that could exceed 1 billion gallons in 2010.
The RFS-2 will drive demand to never before levels. Are you positioned to take advantage of this new, legislated demand? What about RINS and how those will be handled and administered?
NBB points out that administrators from the EPA will be there to provide insight and answer questions and is an opportunity you just can't miss. You can register for the event here.