Not since the guy from Keokuk said "Hey, I'll bring the pig to the luau," has there been such a perfect partnership between the Hawkeye and Aloha States. Pacific Business News says Hawaiian Electric Co. (HECO) will buy 3 million to 7 million gallons of biodiesel annually for two years from Ames, Iowa-based Renewable Energy Group for the utility's new power plant on Oahu: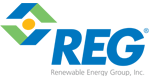 REG won an earlier bid in October to supply 400,000 gallons of biodiesel for testing at the 110-megawatt plant.
The company was the winning bidder among eight companies seeking to supply the biodiesel, which will be processed from used cooking oil and waste animal fat.
REG operates nine biodiesel production plants on the Mainland with the capacity to produce more than 300 million gallons of biodiesel per year, and has two others under construction.
The contract has been submitted to the Hawaii Public Utilities Commission for review, and delivery of the biodiesel could begin within four months of PUC approval, HECO said.
HECO has committed to using only green fuels to run the plant.