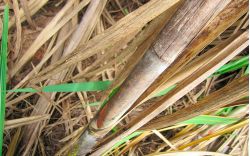 There has been quite a bit of activity in Brazil during the last few months of 2009 and it looks like it will continue. Bunge Limited announced today that it will become the 100 percent owner of Usina Moema Participacoes S.A. Moema Par is a holding company that owns one sugarcane mill and has ownership in five others. Together the six mills, known as the Moema Group, have the capacity to crush 15.4 metric tons. This agreement, which is structured as a share exchange worth approximately $896 million, gives Bunge 60 percent effective share of the total capacity.
"This transaction fulfills Bunge's strategic goal of building a large-scale, fully integrated business in sugar and bioenergy," stated Alberto Weisser, Chairman and CEO of Bunge Limited. "It adds significant scale to our current milling operations and enables us to vary production among multiple sugar and ethanol products, according to market conditions. The Moema Group cluster is also strategically located near large domestic markets in Brazil and has excellent access to export logistics systems. All of these strengths make it a perfect fit with our global trading and marketing operations."
The Moema Group cluster is located on the border of São Paulo and Minas Gerais states, the two largest domestic ethanol markets in Brazil. According to Bunge, the mills benefit from cost savings due to their cluster configuration, and have favorable road and rail access to three of Brazil's largest export ports (Santos, Paranagua and Vitoria). The mills can produce both raw and crystal sugar, as well as hydrous and anhydrous ethanol. In addition, the mills have co-generation facilities, are self-sustaining in terms of energy requirements and sell excess power to the grid. The majority of the cluster's sugarcane is harvested mechanically, which is now law in São Paulo.
According to Bunge, they may enter into agreements to secure some of all of the remaining interests in the mills that comprise the Moema Group in the next few weeks.