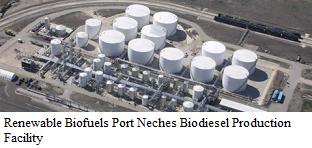 The new year has brought some bad news for the biodiesel industry. As expected, the $1-per-gallon federal tax incentive expired at the end of December 2009. And, as expected, some biodiesel makers have had to idle their plants after losing the tax credit.
One of the biggest to "idle in the new year" is the 180-million gallon Renewable Biofuels plant in Port Neches, Texas, just a year after it had opened. The Houston Chronicle reports says it's a trend that we could see more of:
The entire biodiesel industry is in a similar holding pattern, though it's unclear how many companies idled plants Thursday. Producers still hope the credit will be renewed and applied retroactively when Congress reconvenes later this month.
But even a temporary loss of the credit could be enough to ruin some companies, many of them already weakened by a string of recent economic and policy setbacks.
"As a result of the tax credit lapse, we expect that industry-wide pay will be cut, jobs will be lost and infrastructure and plant investments will waste away," said Daniel J. Oh, president of Ames, Iowa-based Renewable Energy Group, one of the nation's largest biodiesel producers.
All of the company's nine plants — including one in Seabrook on Galveston Bay — "are expected to be negatively affected" by the loss of the credit, he said in an e-mailed statement without elaborating.
The article goes on to say that 23,000 jobs in the biodiesel industry could be lost, coming on the heels of a 29,000-job loss in 2009. But there is a bright spot as some of those jobs could come back on line if Congress re-authorizes the tax credit.