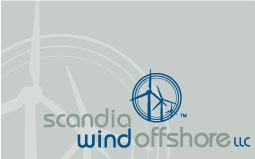 A Minnesota company is proposing to build a massive wind farm in Lake Michigan, but some of the residents of Michigan, which has some of the highest unemployment rates in the country, still aren't pleased about the project that would bring green energy and jobs to the economically distressed region.
The Detroit Free Press says that Scandia Wind, a Minnesota firm partnering with a Norwegian wind developer, wants to put up a 1,000-megawatt wind farm just offshore from the communities of Pentwater and Ludington:
Several companies have been sniffing out offshore wind farm possibilities in Michigan, but Scandia was the first to jump in and publicly announce its plans. The turbines would be visible all along the shore, which takes in Silver Lake and Mears state beaches, Little Sable Lighthouse and Pentwater Harbor.
The firm wants to build foundations on the lake bottom, which is owned by the citizens of Michigan, and place 100 to 200 turbines — 5 to 10 megawatts each — on top.
The total size would make the wind farm bigger than any proposed new coal plant in Michigan and nearly as large as the Fermi 2 nuclear plant.
Local residents say the wind turbines would ruin the view off their beaches and hurt tourism. Scandia officials point out that the $3 billion project would put people to work to the tune of at least 2 million man-hours.