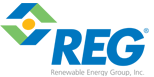 An Iowa biodiesel plant that picked up a $2.5 million federal grant earlier this month (see my post from Dec. 7) has picked up another $3.9 million from the state.

Wallaces Farmer reports that Elevance Renewable Sciences of Bollingbrook, Illinois and the Renewable Energy Group biodiesel plant in Newton received the Iowa Power Fund money to develop a Nobel Prize-winning technology that will expand biodiesel products to include jet fuel and specialty chemicals, such as cosmetics:
Elevance says the technology could be used at other biodiesel plants. Biodiesel manufacturers have struggled for profitability as they are contending against uncertain demand for biodiesel fuel used by the trucking industry.
The new technology will be added to the Central Iowa Renewable Energy biodiesel plant at Newton, which is managed by Renewable Energy Group, headquartered at Ames. The plant employs 28 workers. Elevance and REG say an additional 40 to 50 worker positions would be created in 2010 by adding Elevance's olefin metathesis technology.
Cargill is one of the investors in this new technology
Elevance is backed by Cargill and the Texas Pacific investment group of Ft. Worth, Texas. "We look forward to completing the contracts, beginning construction of the plant at Newton, and bringing these products to market as quickly as possible," says K'Lynne Johnson, CEO of Elevance. A company called Materia Inc. of Pasadena, Calif., owns the patents to the olafin metathesis process that won the 2005 Nobel Prize.
Experts say the new technology can be used in other biodiesel plants.