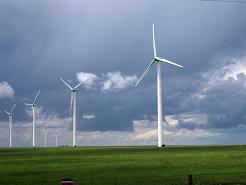 Rhode Island's governor has selected Chevron Energy Solutions to install and operate six wind turbines on public land in the state.

The Providence (RI) Journal reports that Governor Donald Carcieri made the announcement about the San Francisco-based clean energy company getting the contract at a Narragansett Town Council meeting:
"Chevron is a proven leader in renewable energy and a proven partner with states and municipalities," the governor said in a statement.
Chevron will work with the state Department of Environmental Management [DEM] and the Town of Narragansett to develop a plan to erect up to six large wind turbines on properties owned by the state or the town. The exact number of turbines and locations will be determined during the talks with the developer…
Energy produced by the proposed turbines would be used at DEM facilities at the Port of Galilee, which use about $100,000 worth of electricity annually, and at state camping grounds and beaches in Narragansett. It would also be used to power the Scarborough Treatment Plant and other Narragansett town facilities.
Chevron will get no state or local funds to put up the turbines.