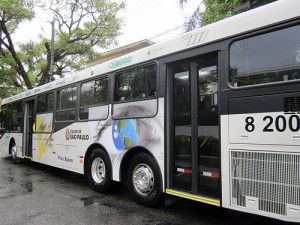 Ethanol-powered buses are gaining ground in Sao Paulo, the largest city in Brazil. While it is unusual to see ethanol used in replacement of diesel fuel in diesel engines in the States, it is not so uncommon in other areas. In 1993, a group of companies began working together to discover a solution for mass transport and its relationship to global warming. The result was the Bio Ethanol Sustainable Transport Project (BEST) which includes more than 600 buses that have been converted to run on 95 percent ethanol.  Of the total number, 400 of them are in Stockholm.
The program has been in effect in Sao Paulo Brazil since 2007 and while I was there last month, I had the opportunity to ride one of the brand new buses. There are quite a few players in this project – the National Biomass Reference Center, University of Sao Paulo's Electro-Technical and Energy Institute, and UNICA, the Brazilian Sugarcane Industry Association, among others.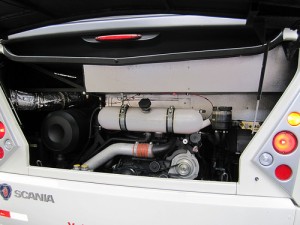 The bus is equipped with a 15 m Scania chassis, has a 9 liter, 270 hp engine that is fueled with 95 percent ethanol and a 5 percent  ignition promoter additive and a compression ratio of 28:1. (The most common compression ratio is 18:1.) The emissions meet the European Union's standards, EURO 5, as well as the Enhanced Environmentally Friendly Vehicles (EEV) standards. The Cosan Group is providing all the ethanol used in the two operational buses.
While the BEST project is still a pilot program in Sao Paulo, the demand for the buses is growing due to the Climate Change Law of Sao Paulo City that was passed. This law states that all bus fleets must run on renewable sources by 2018. The city mayor recently announced a goal to have 200 buses running in the short term with a full conversion to ethanol by 2019, a tad past the deadline set by the city; however, theoretically, within 10 years, there will be no diesel buses running in Sao Paulo. This is achievable in that there is another law that requires all buses to be retired every 10 years.
UNICA is hoping other metropolitan areas adopt Sao Paulo's legislation and there are talks with the city of Rio to bring in ethanol buses as they prepare to host the 2016 Olympic games.
You can see more pictures of the ethanol buses in my photo album.