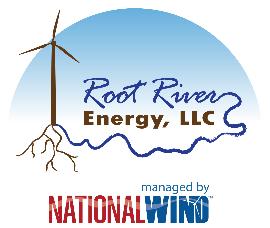 A 20,000 acre land lease is helping move forward a community wind project in Minnesota.
Root River Energy and managing partner National Wind have announced they have secured the 20,000 acres in Mower and Fillmore Counties in Southeast Minnesota. This press release from National Wind says the land represents about two-thirds of the leased acres needed to develop up to 300 megawatts of community-owned wind energy in the area:
"The project is really coming together nicely as we continue to receive a positive community response from both the Fillmore and Mower County footprints," says [Root River Energy's Jim] Connolly. "The Mower County expansion has helped accelerate the project's development. Also, landowners are realizing that our business model focuses on building positive relationships, allowing the community to share in the project's revenues and influence the process to meet their needs."
Root River officials say they are working with local farmers to make sure access roads to the project don't interfere with current farming operations.