Growth Energy's Co-Chairman (Ret.) Gen. Wesley Clark, warned today that continuing dependence on petroleum for automotive fuel is not only a carbon risk, but is a security risk as well. Clark delivered this message during a side event hosted by the Danish Climate Consortium and organized by Novozymes during the COP15 conference in Copenhagen.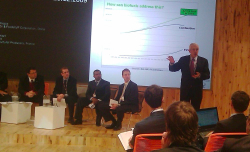 Gen. Clark's remarks were part of his speech titled, "Global Energy Security in a Climate Affected World," where Clark noted that continuing on our dependence on imported petroleum was a dangerous course.
"We suffer the inefficiencies of cartel pricing and oil shocks… Then there is the military cost to ensure steady access to foreign oil from parts of the world that are volatile, or outright hostile to Western values and policies. Taxpayers fund the defense of oil shipping routes with an estimated annual cost of more than $50 billion," said Gen. Clark.
While expressing concerns about America's dependence on foreign oil, he also offered a solution. "Ethanol is a low-carbon fuel – as much as 59 percent fewer greenhouse gas emissions than the production of gasoline. The most advanced technology, with closed loop biorefineries, offers us even cleaner alternatives, as much as 67 percent fewer GHGs compared to gasoline. With cellulosic ethanol, we could produce 86 percent fewer."
Gen. Clark concluded, "What does ethanol offer us to solve this dilemma? The domestic production of nearly 6.5 billion gallons of ethanol in the United States in 2007 eliminated the need to import at least 228.2 million barrels of oil for gasoline."