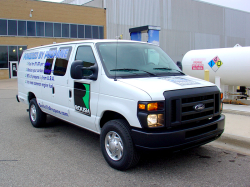 ROUSH is expanding its line of propane fueled vehicles with the addition of a line of E-Series vans. ROUSH will offer fuel conversion solutions for both passenger and cargo van applications. The company selected the E-Series because, "Ford has long held a leadership role in the van segment for more than 30 years and fleet managers are familiar with the ordering process, cost of ownership, and maintenance schedules." To date, ROUSH offers propane fueled trucks, including F-150, F-250 and the F350. Production on these vehicles is expected to begin in first quarter 2010.
"The response from the fleets to our line of F-150, F-250 and F-350 propane pickups and conversion kits has been outstanding, and their feedback inspired us to develop the complete line of E-Series vans," said Jack Roush. "Many of the fleet managers we have spoken with utilize a tremendous number of vans in the course of their daily business and were looking for the type of cost and environmental advantages that propane offers as a motor fuel. Their desire is what motivated ROUSH to continue to add to our line of propane vehicles."
According to the company, the ROUSH propane-fueled E-Series vans will achieve Super Ultra Low Emission Vehicle (SULEV) II emission standards, and on average, a SULEV vehicle is 90 percent cleaner in emissions than the average new model year car or truck. The ROUSH conversion system works on the Ford 5.4L, V-8 engine found in 2009 and newer vans, including the gaseous prep engine offered by the Ford. In addition to emission benefits, various studies demonstrate operational savings for fleets when they convert to propane.
ROUSH is also working on developing a propane kit for the Ford 6.8L, V-10 engine used on the E-450 Cutaway vehicle. This is scheduled to be available in late 2010.