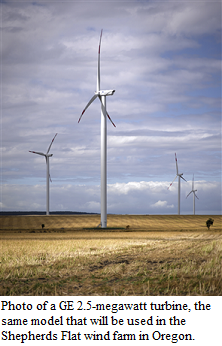 GE has signed a $1.4 billion deal to deliver more than 300 wind turbines for a 845 megawatt wind farm to be built in Oregon.
The Earth2Tech blog says, when built, it would be the largest wind farm in the U.S.:
Independent power producer Caithness Energy will develop the wind farm, called Shepherds Flat, and under three power purchase agreements will provide clean power for utility Southern California Edison (meeting one-tenth of SCE's state renewable portfolio standard). Caithness Energy says the entire project will cost $2 billion, will create 435 local jobs and is ready to be built now.
The wind industry is pretty much the most mature clean power sector in the U.S. and is being driven in California partly by the state renewable portfolio standard, which says utilities must have 20 percent of their electricity come from clean power by 2010. The American Wind Energy Association (AWEA) said that in the third quarter the U.S. wind energy industry installed 1.6 GW of new power generating capacity, bringing the year-to-date total by the end of the third quarter to 5.8 GW.
Experts are hoping that the tough economy, which hit the wind turbine particularly hard this past year, will turn the corner to free up some of those markets to provide more capital for construction.