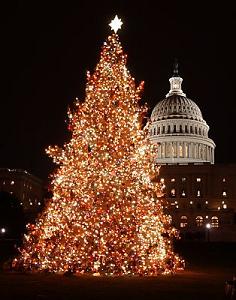 Tomorrow (Tuesday) night will be a magical time in Washington, D.C., as the Capitol Christmas Tree is officially lit.
The National Biodiesel Board points out that the 85-foot blue spruce made the 4,000-mile cross-country trip from Arizona to the nation's capital on a truck fueled with biodiesel … a first for the tradition of the Capitol Christmas Tree that goes back to 1964:
Two diesel trucks running on B5 (a 5 percent biodiesel fuel mix) were part of a caravan carrying the approximately 125-year-old tree from the Apache-Sitgreaves National Forest.

"It is significant that the Capitol Christmas Tree was delivered with biodiesel because economic development, carbon reduction, and energy security continue to dominate national priorities," said Joe Jobe, CEO of the National Biodiesel Board. "Biodiesel helps us achieve all of those things."
The trucks carrying the tree and its accompanying 10,000 handmade ornaments and 80 companion trees that will be placed in offices throughout the Capitol Complex made their way across country, using the BioTrucker system going from biodiesel station to biodiesel station to pick up donated biodiesel along the way.