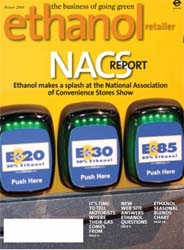 Growth Energy's Winter 2009 issue of the Ethanol Retailer has just hit the streets. The NACS Report issue focuses on what retailers need to know when opening an ethenol blender pump station.
The cover story of this issue tells how retailers gave and took information about increased use of renewable fuels at the National Association of Convenience Stores (NACS) conference in Las Vegas in October. "There is a lot of interest from significant retailers that is driven, in part, by their need to comply with RFS2. I know a number of retailers that are doing everything they can to comply with that rule," noted Scott Negley, Director of Alternative Energy for Dresser Wayne.
Other main features in the Ethanol Retailer magazine include the introduction of the Ethanol Retailer website; info on the 2010 FFV Purchasing Guide; how to clean a fuel tank in the conversion process; the MO Blender Pump Program; a first person story on a Hutchinson, Kansas blender pump retailer; and much more.
To view the Winter 2009 issue of the Ethanol Retailer, click here.