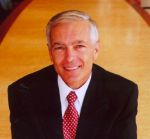 Ret. General Wesley K. Clark, who is the Co-Chairman of Growth Energy, will be speaking at the White House jobs summit today.
"Green Jobs" has been a hot topic since the new administration took office; yet not much traction has been gained in turning around unemployment rates, which are currently the highest since 1983. The summit was convened by President Barack Obama who took office during one of the country's worst ever economic recessions. The goal of the forum is to conjugate business executives, economists and labor leaders to discuss ways to improve the economy and create jobs.
According to Growth Energy, Gen. Clark will be making remarks about the Administration's plans to focus on stimulating the renewable energy industry, in an effort to remake the nation's economy for more sustainable growth that is less dependent on debt and foreign sources of energy. Clark said that for too long, imported oil has held the nation's economy "over a barrel."
"Ethanol is the model for all successful renewable energy industries:  driven by technological innovation and with enormous potential for growth and job creation," said Gen. Clark. "Ethanol is the only viable renewable, sustainable fuel we have in this country that is an alternative to gasoline refined from imported oil. It is being used today. And we can make it cleaner and greener every year – while creating jobs right here that can't be outsourced."
In other news, Tuesday Growth Energy recieved a letter from the EPA postponing the decision to act on the Green Jobs Waiver, until mid0-2010.