Biofuels Digest has announced its "Hottest 50 Companies in Bioenergy" for 2009/2010. The top of the list? Solazyme, a company specializing in developing renewable oils.  The list is determined by a combination of a 75-member panel of international selectors and votes from Biofuels Digest subscribers, and is one of the most coveted by bioenergy companies.
Last year, Solayme was ranked #6 and in the top seat was Coskata. This year's #2, POET, was ranked #4. Several of last year's top 10 companies failed to make the top 10 this year including Virent Energy, Range Fuels and UOP which this year were ranked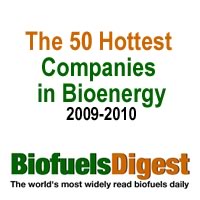 #21, #14 and #12 respectively.
Rounding out the top 10:
1. Solazyme
2. POET
3. Amyris Biotechnologies
4. BP Biofuels
5. Sapphire Energy
6. Coskata
7. DuPont Danisco Cellulosic Ethanol
8. LS9
9. Verenium
10. Mascoma
This year more than 1,000 companies were elegible for the list and 311 received votes. Click here for Biofuels Digest's complete coverage.