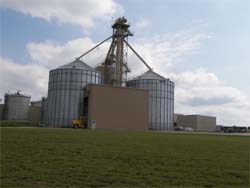 Pine Lake Corn Processors, LLC, a 30 million gallon per year ethanol plant, will most likely come out of bankruptcy with a new owner. The Steamboat Rock, Iowa ethanol plant filed bankrupcy a year ago and now has about $12 million in debt.
According to the Chicago Tribune, the company president Larry Meints said the company locked into high corn prices in the summer of 2008. When corn prices plummeted, Meints said Pine Lake didn't contract enough ethanol at a high enough price to cover expenses.
"We ran out of cash," Meints said. The Pine Lake problem mirrored that of VeraSun Energy Corp., which used to be the nation's second-largest ethanol producer. They declared bankruptcy in October 2008. Both companies locked into contracts for corn when it was high, which soared to nearly $8 per bushel in June 2008. At the same time, ethanol was at nearly $3 per gallon. Then, the market dropped and corn dropped to $3 per bushel. Ethanol then went for about $1.50 per gallon.
A bankruptcy judge will decide Friday whether to turn Pine Lake Corn Processors over to a new partnership.