The company building a proposed wind farm off the coast of Massachusetts possibly has found a market for its wind energy … once it starts actually generating the green power.
Wind energy company Cape Wind and utility National Grid are negotiating a long-term contract for the utility to purchase the electricity generated by the proposed wind farm in Nantucket Sound. According to a press release from Massachusetts Governor Deval Patrick, this agreement is critical for the project to get financing so it can be built in time to get Stimulus Bill money … reducing costs for the builders by 30 percent: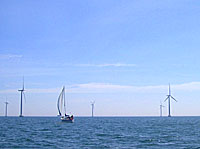 "For both reducing greenhouse gas emissions and launching the offshore wind industry that will achieve those reductions, it is essential for Cape Wind, like offshore wind in general, to move from wishful thinking to reality," said Governor Patrick. "A contract with an electric distribution utility like National Grid will move Cape Wind one step closer to reality."
The power purchase arrangement still has to go through state regulatory review, but it is considered a major milestone for what could be the first offshore wind project in the U.S. The news is being welcomed by environmental groups:
"Anything that moves toward producing megawatts of clean renewable energy and creating the jobs associated with this can only be viewed as positive," said Pam Solo, president, Civil Society Institute. "This is a critical development that provides the essential assurance Cape Wind needs to secure financing and get real steel in the ground."
Clean Power Now Executive Director Barbara Hill said: "Clean Power Now will continue to work with the Governor's office and his administration to ensure that the consumers throughout the Commonwealth, including the Cape and islands, will have the opportunity to not only realize the benefits of cleaner air, jobs and energy independence from the Cape Wind project but also by locking in a predictable, competitive price for many years."
The Civil Society Institute is one of the initiating organizations of the 140-member TheClean.org (CLEAN), a collaboration of state and local organizations and individuals, lobbying for new energy policies. Clean Power Now is a non-profit organization that gives the public information about renewable energy projects and policies. The group has made wind energy off the shore of Nantucket its focus.