Electronics giant Sanyo and renewable energy company Coenergy are teaming up to build one of the East Coast's first and largest solar energy plants that will treat and transport water for Aqua Pennsylvania, a public water and wastewater utility, serving more than 3 million residents in Pennsylvania, Ohio, North Carolina, Illinois, Texas, New Jersey, New York, Indiana, Florida, Virginia, Maine, Missouri, and South Carolina.
This Sanyo press release says the 1.1 MW solar energy plant will be built on a 4.5-acre sedimentation basin and will save Aqua Pennsylvania $77,000 a year on its energy bill:
The project – known as Ingram's Mill Farm – is slated to produce @ 1,300,500 kWh of peak-time energy a year for the treatment and transportation of water for hundreds of thousands of homes and businesses throughout Southeastern Pennsylvania… When completed, Ingram's Mill Farm will be one of the largest solar farms on the East Coast. Construction is slated for completion as early as the end of this year.
"With improved state and local permitting processes and Conergy's project expertise, this solution will allow us to reap the economic and environmental benefits of renewable energy in very short order," said Aqua America Chairman, President and CEO Nicholas DeBenedictis. "It's a way for us to reinforce our commitment as environmental stewards, cut operating costs, create a hedge against rising energy costs and better serve our communities and investors," DeBenedictis said.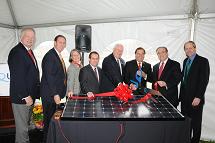 This project is being funded by a $1 million Pennsylvania Energy Development Authority (PEDA) grant in the amount of $1 million, which is funded in part with federal stimulus dollars.
Aqua America, Inc. Chairman and CEO Nick DeBenedictis, Conergy Projects, Inc. President Kurt Zwerko, Aqua Pennsylvania President Karl Kyriss, Pennsylvania Public Utility Commissioner Rob Powelson, U.S. Congressman Joe Pitts, Pennsylvania Senator Andrew Dinniman and Pennsylvania State Representatives Barbara McIlvaine-Smith and Duane Milne took part in a groundbreaking earlier this month.