Locomotives north of the border will be testing biodiesel to see how well the green fuel works in cold weather conditions.

Canadian Pacific will test four locomotives running on biodiesel on some lines between Calgary and Edmonton:
The pilot project will evaluate the cold weather application of biodiesel in real world conditions. It is the first cold weather use of biodiesel by a railroad. The pilot is a partnership with Natural Resources Canada under the National Renewable Diesel Demonstration Initiative.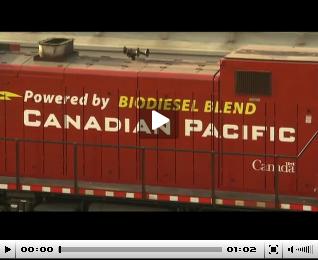 Canadian Pacific will undertake routine detailed mechanical examinations of the locomotives in the pilot project. The information gathered will be used to evaluate whether a biodiesel mixture of up to 5% (B5) has any significant adverse effects on a locomotive or its associated systems in cold weather operation. Impact to reliability, potential changes to the overhaul or maintenance work scope and reviews of specific components on the locomotives will also be monitored.
This link is supposed to have some video … none there as I post this, but I'll keep checking, and let you know if there's anything to see.
UPDATE: The link now has some pretty cool video of the biodiesel-powered locomotives in action. Check it out!