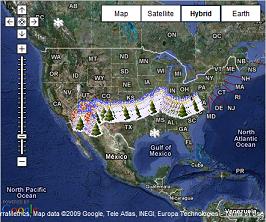 As you might remember from my post earlier this month, this year's Capitol Christmas tree is making its approximately 4,000-mile trip from Arizona to Washington, D.C. fueled with biodiesel.
Now you can track the trek of the two trucks (besides the 85-foot blue spruce, they're also hauling nearly 10,000 handmade ornaments and 80 companion trees that will be placed in offices throughout the Capitol Complex) running on B5 on this Web site.

The National Biodiesel Board is pretty proud that the green fuel is part of this holiday event: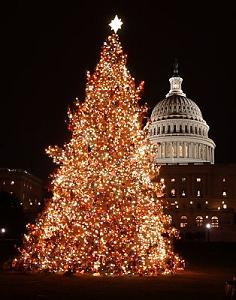 "This is a wonderful opportunity to showcase how biodiesel is a green, sustainable part of the solution to meeting America's energy needs," said National Biodiesel Foundation Executive Director Tom Verry. The route was specially tailored to allow for easy refueling with biodiesel blends, and public education is planned along the way about the benefits of biodiesel…
"This is the first time Arizona has contributed the Capitol Christmas Tree, and it's appropriate that we made this landmark trip with a biodiesel blend," said Colleen Crowninshield, manager, Clean Cities Program of the Pima Association of Governments. "Using biodiesel reduces emissions at the same time it cuts dependence on foreign oil."
The tree will be presented on Monday, December 30.