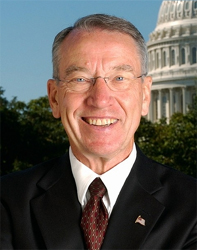 Iowa Senator Chuck Grassley, who has always been an ethanol supporter, will push Congress to act if the EPA turns down a waiver request that will increase the amount of ethanol in fuel from 10 to 15 percent. The EPA is expected to grant or deny the request by December 1.
As Oil Price Information Service first reported, "I think Congress has to get involved if they don't do it [approve blends up to E15] because we're up against an E10 stone wall and we have to cross that wall or we're not going to keep the [renewable fuel standard] mandates that are already in the law," Grassley commented to reporters recently. "And if they don't do what I think is very reasonable, to go to E15, then I think Congress has to intervene. But do I think Congress would intervene in the next three weeks before Christmas? I doubt it."
But what would Congress do if E15 was approved, but oil companies wouldn't sell it until they received liability protection or if more research was done, a local reporter asked Grassley.
"Well, I think I would go to the Congress and try to settle the issue in the Congress. And I would hope that industry would cooperate," Grassley responded. "There are some oil companies that are very pro-ethanol, like Marathon, as an example. I don't know what they would do, but considering the traditional 'Big Oil' fight against ethanol, I presume that they wouldn't feel inclined to use what's not available and not help us get to the mandate. I would hope otherwise, and I would be trying to do everything I could to do the otherwise," he added.