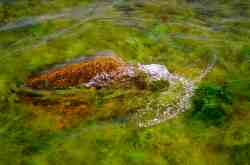 Algenol Biofuels, in partnership with The Linde Group, have agreed to collaborate in a joint project that will attempt to identify the optimum management of carbon dioxide (CO2) and oxygen for Algenol's algae and photobioreactor technology. The goal is to develop cost-efficient technologies that capture, store, transport, and supply CO2 for the production of third-generation biofuels out of carbon dioxide, salt water and algae as well as remove oxygen from the photobioreactor.
"Producing fuels or chemicals from algae is a promising way of reducing greenhouse gas emissions," said Dr Aldo Belloni, member of the Executive Board of Linde AG. "A cost-efficient supply of CO2 is a key factor in this biofuel chain. As a pioneer and leading company in CO2 capture, transport and supply we are delighted to be a key player in major projects in the algae-to-biofuel area."
The technology will serve two purposes: to reduce atmospheric concentrations of C02 and to deliver sustainable low-cost alternative biofuels. Algenol has developed proprietary technology to produce advanced biofuels using algae, CO2, salt water and sunlight. One of the major benefits of producing biofuels from algae is that the algae consumes CO2 from fossil fuel sources, such as combustion flue gases from coal-fired power plants.
In other news, earlier this month, The Linde Group, in partnership with Waste Management, commissioned the largest landfill gas (LFG) to liquefied natural gas (LNG) plant in the U.S. in Livermore, Cali.