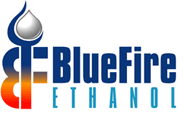 Cellulosic ethanol producer BlueFire Ethanol Fuels, Inc. has cleared the first hurdle in its quest to get a $56 million government loan guarantee for its Lancaster, California ethanol plant.
As you might remember from my Domestic Fuel Cast earlier this month, BlueFire uses a process called Concentrated Acid Hydrolysis Technology that can turn many feedstocks into ethanol, including garbage. I had the chance to talk to Arnold Klann, CEO of BlueFire Ethanol about this latest bid to get some federal loans and the operation he hopes that money will start.
"Lancaster is a prototype. Our business model is to be able to take the waste that's generated by society … and divert the cellulosic fraction of that waste treatment and convert it into ethanol."
He says the Lancaster facility is designed for communities of about 100,000-150,000 people. This opens up the possibility that this type of plant could be exported to some developing countries that have agricultural residues and garbage that could be turned into fuels for those local communities. In fact, BlueFire is working with a couple of economic develpment groups in Africa to see if this technology could be used there.
You can hear my entire conversation with Klann here: [audio:http://www.zimmcomm.biz/domesticfuel/AKanninterview-edit.mp3]
Klann says they have another plant in the works in Fulton, Mississippi, but that will be geared for larger cities of at least half a million people.
For those who might scoff at the notion that a truly commercially viable venture would need any government involvement, Klann points to American history for examples of how the government gets involved in new technology.
"Even going back to the time of the first railroads being put in place, it was always the government taking the lead role in developing or implementing new technologies that were frontier technologies."
He says it was the government's investment in the space program that brought us today's modern conveniences, such as computers and even iPods. And it's no different with the government investing in green fuel technology, such as the one that BlueFire has developed.
"The capital markets are not geared to being able to take these kind of technology risks that are associated with first-of-a-kind projects," Klann says. He adds that government is suited to take that inherent risk with new technology.
Plus, he points out that this is a loan that will be paid back, and the $56 million in federal money would be used as a mitigation factor for raising the remaining private money for the $100 million-plus project.
A decision as to whether BlueFire gets the federal loan guarantee is expected after December 4. In the meantime, Klann remains optimistic because his project meets the goals of the Stimulus Bill.
"The Lancaster facility is definitely [a] shovel-ready [project]. We have all the permits in place; we have the engineering complete; we have the designs complete. We're encouraged that we meet all the goals and objectives of the Obama Administration, as well as the requirements of the loan guarantee program. [And] we're hopeful that we'll start construction next year on this Lancaster facility."