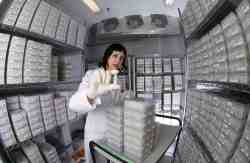 Ceres has been awarded $5 million dollars by the U.S. Department of Energy (DOE) to continue its advanced trait development project designed to increase the biomass yields of several energy grasses, such as switchgrass, sorghum and miscanthus, by as much as 40 percent. At the same time, the use of inputs such as nitrogen fertilizers would be decreased. The grant is part of the program managed by the Advanced Research Projects Agency – Energy (ARPA-E) and the award recipients were based on the potential for high impact as well as scientific and technical merit.
Richard Flavell, Cere's Chief Scientific Officer, said in a press statement earlier today, "Low-input traits developed through modern genetics can provide wide-reaching benefits to the energy and agricultural sectors as well as the environment — just the type of transformational impact energy officials are looking for."
Ceres' initial projections indicate that their traits alone could displace 1.3 billion barrels of oil and 58 million tons of coal over a 10 year period. In addition, taking into account cropping practices, the company also estimates that 1.2 million tons of nitrogen fertilizer could be eliminated. This is equal the the amount of average nitrogen needed for 24 million acres of cotton.
"At the heart of our ambitions for a full-scale bioenergy industry will be how well we utilize our land resources," said Richard Hamilton, Chief Executive of Ceres.  "With greater use of technology, increased productivity will go hand-in-hand with greater sustainability."