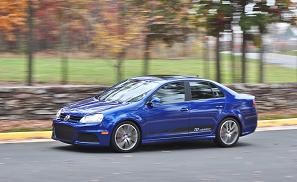 A version of the same Volkswagen that raced on biodiesel the past couple of years will soon be available for the general public.
Racer.com reports Volkswagen of America, Inc. has announced the Jetta TDI Cup "Street Edition" will be hitting the showrooms this coming January:
"Since our inaugural TDI Cup series in 2008 we have received numerous inquiries as to whether or not we would offer a TDI Cup replica vehicle," said Mark Barnes, Chief Operating Officer, Volkswagen of America, Inc. "We're thrilled to announce that a special edition Jetta TDI Cup Street Edition will be available in dealer showrooms early next year. What makes this special edition so unique is that it features the optional, race inspired, TDI Cup body kit package combined with our clean diesel engine. The Jetta TDI Cup Street Edition is one exceptional special model that is as much fun to drive as it is to look at," added Barnes.
As you might remember from our posts earlier this year, the TDI Cup ran all of its VW TDIs on 5 percent biodiesel… and your street edition will burn the same (maybe even more). In addition, buyers will get an Advanced Lean Burn Technology Motor Vehicle Federal Income Tax Credit of $1,300.