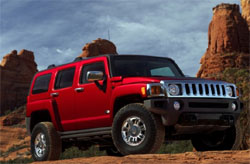 Hummer has always been known as a gas guzzling vehicle that was anything but eco-friendly. Well, it's nearly 2010 and times are a changin'! HUMMER announced today that updates to their 2010 HUMMER H3 and H3T midsize all-terrain vehicles will be flexible fuel and include new exterior colors.
"In 2007, HUMMER committed to offer a biofuel powertrain in every vehicle by 2010 and follows through on that promise with the addition of a new 300-horsepower, E85 Flex Fuel capable 5.3L V8," says James Taylor, HUMMER CEO. "This is just the first step in HUMMER's evolution to offer responsible, yet highly capable all-terrain vehicles. Future models will be lighter, more efficient and will continue to offer the best blend of off-road capability and on-road performance."
According to Hummer's press release, the new 5.3L V8 Flex Fuel engine is standard in all 2010 Alpha series' models. The Hydra-Matic 4L60 electronically controlled four-speed automatic transmission has a 5.3L engine. Flat towing is enabled on all H3 and H3T models.
The new colors available will include Red Rock Metallic, Silver Stone Metallic, and Canyon Metallic. The 2010 HUMMER H3 and H3T should arrive in in dealerships by next month.