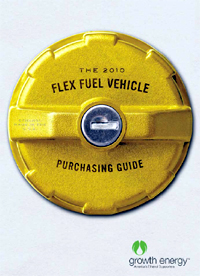 The 2010 Flexible Fuel Vehicle (FFV) Purchasing Guide is now available through Growth Energy. The 16-page, full color guide contains detailed information regarding which vehicles are offered to run high level blends of ethanol by automobile manufacturers.
The FFV Purchasing Guide has been available since 2003, offering frequently asked questions regarding high level blends of ethanol and the availability of FFVs. This issue provides all the latest information about 2010 Chrysler, Ford, General Motors, Nissan, Mercedes-Benz and Toyota trucks and cars with E85 compatible engines.
The Purchasing Guides are available in bulk for giveaway items at trade shows or blender pump/E85 station grand opening events. They can be ordered on-line here.